The school's phone system is currently down. If you need to communicate with the office, please email
dkehder@ges60.org
or call (618)531-5473.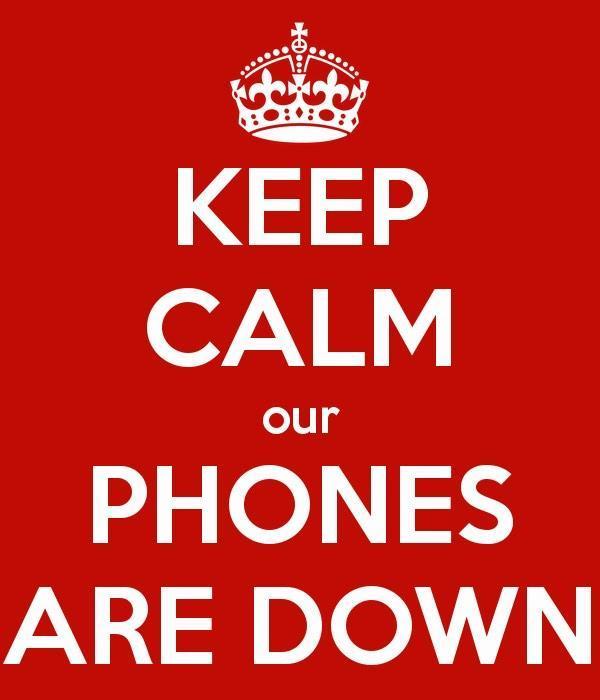 We are excited to share information on our first ever SEL Family Night. It will be held at school on Monday, February 27, starting at 6:00. Families with children across all grade levels are welcome to join us for an evening dedicated to Social Emotional Learning. Save the date on your calendar. Our team is working to put together an event that focuses on families supporting the growth and development of their children. Stay tuned for more information in the weeks to come.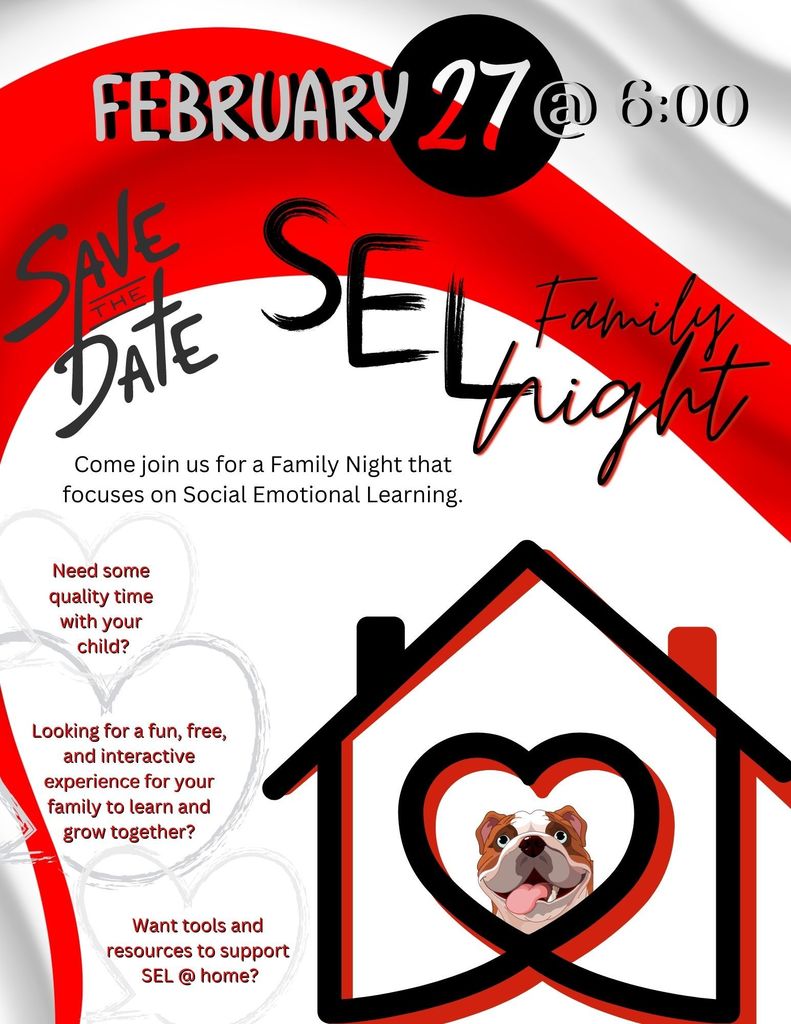 Good evening Bulldog Country  With a lack of sunshine and temperatures hovering around 20 degrees all day today, the country roads are still largely ice covered.  Considering our buses travel these roads for a majority of their routes, we simply cannot risk it.  As a result Tuesday, January 31, has been declared a Traditional Snow Day at GES.  Stay safe Bulldog Country.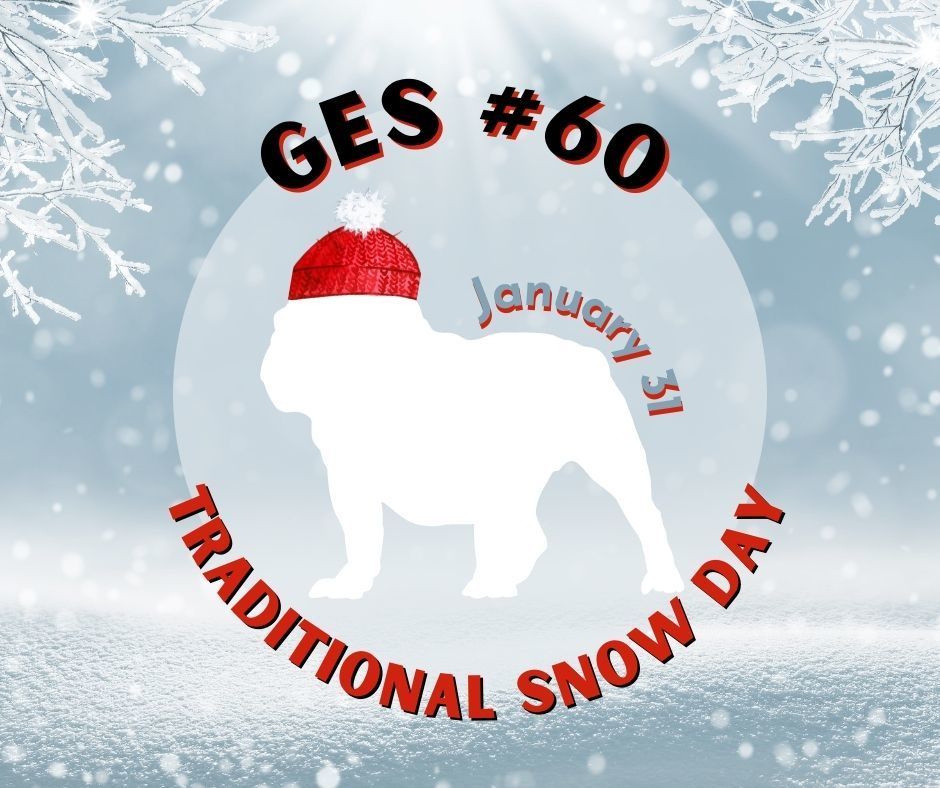 Due to today's Snow Day, our first ever Bulldog bowling match against ASA at V & H will be rescheduled for another date. Stay tuned for updates.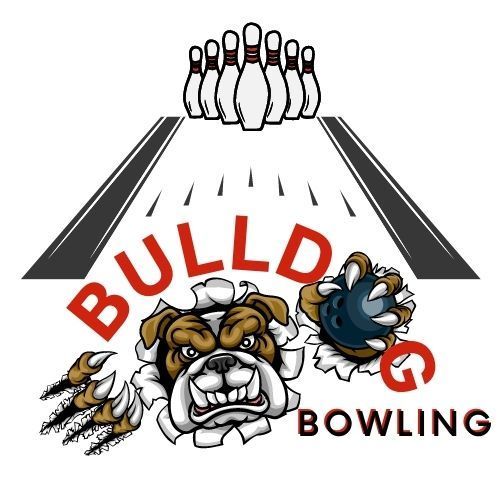 Unfortunately, Old Man Winter decided to make a sneak attack at just the wrong time. As a result, we have a thin layer of mixed precipitation covering the roads with more forecast to fall through the 9:00 hour. As a result of the questionable road conditions, today has been declared a Snow Day. This will be a traditional Snow Day. Due to only having 24 hours notice on this weather system, we simply did not have enough time to prepare for an E-Learning Day.

Mrs. Conner's 8th grade ELA students have reached 200 books read for the year so far. They are doing an AWESOME job independently reading towards the 15 book challenge and their personal goals. Keep up the great work kiddos!

Check out the upcoming events scheduled at GES.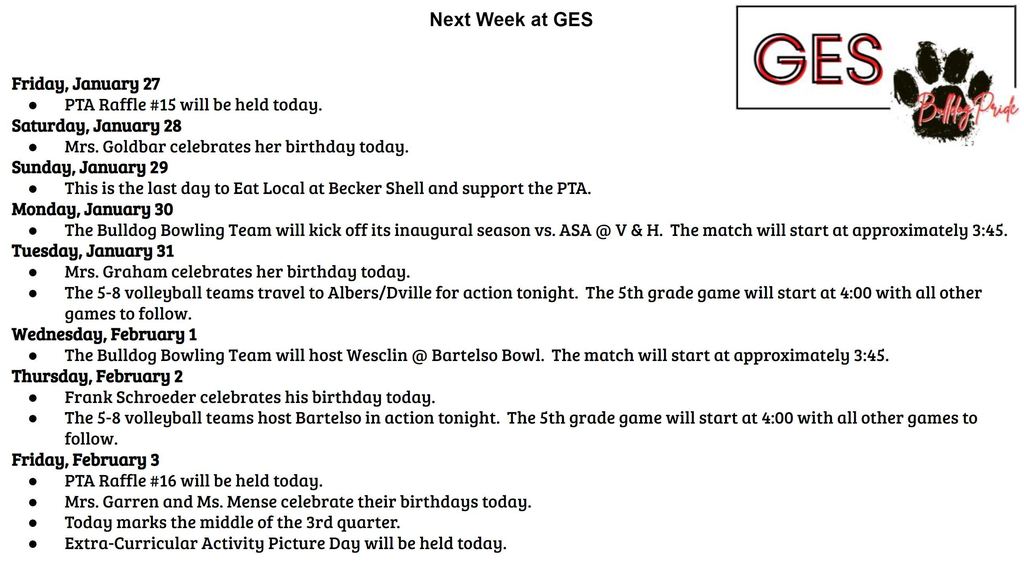 Check out this week's publication of the Bulldog Bulletin.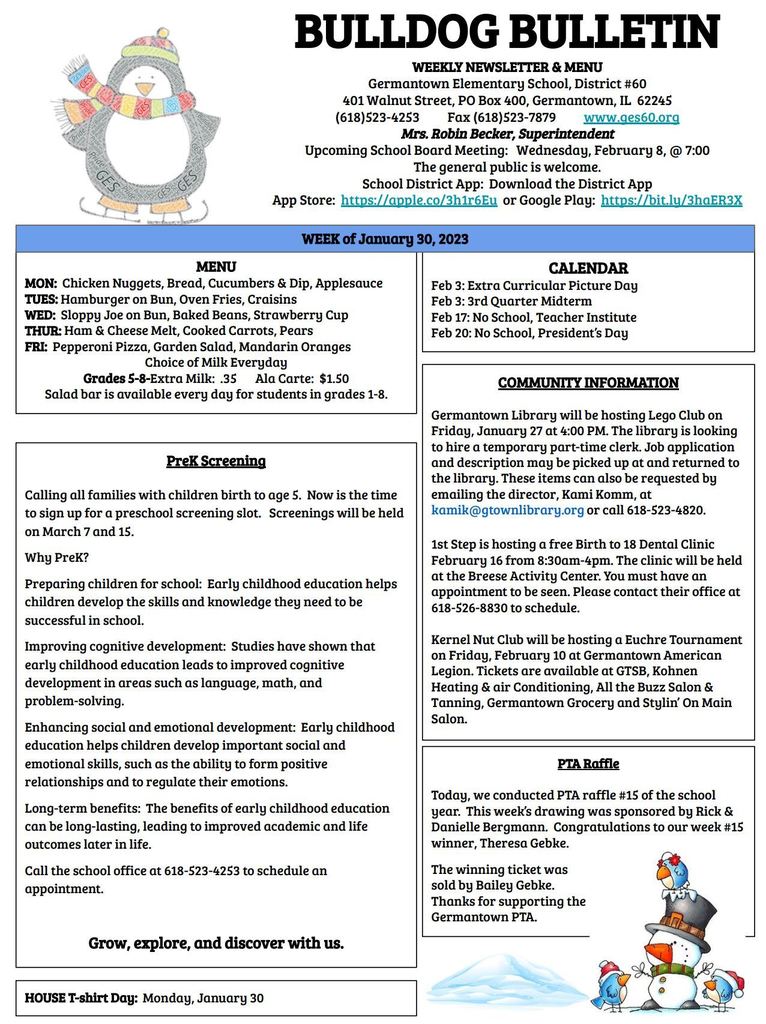 Good evening Bulldog Country 😊 This News Channel 60 weather update is sponsored by Swiss Miss Hot Chocolate. Whether you are warm and cozy at home waiting for the snow to start falling or braving the lines at the grocery store, the winter season calls for some Swiss Miss Hot Chocolate. While Mother Nature has yet to start churning out winter precipitation, the current forecast combined with the desire to give parents some time to plan, has resulted in tomorrow being declared a Snow Day. While we will NOT have in person learning tomorrow, we will have an E-Learning Day. Parents are asked to check their email for more information.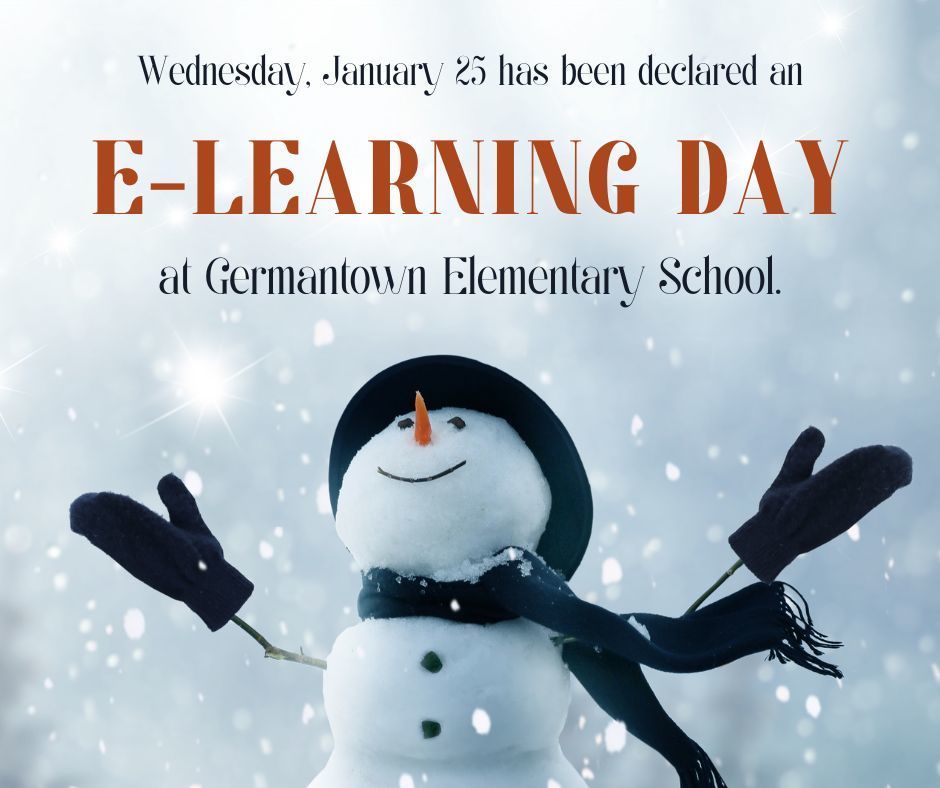 The pairings for the Trenton Knights of Columbus 7th Grade Boys Basketball Tournament have been released. In first round action, our Bulldogs will take on Carlyle at 5:00 on Tuesday, January 31. Go Bulldogs!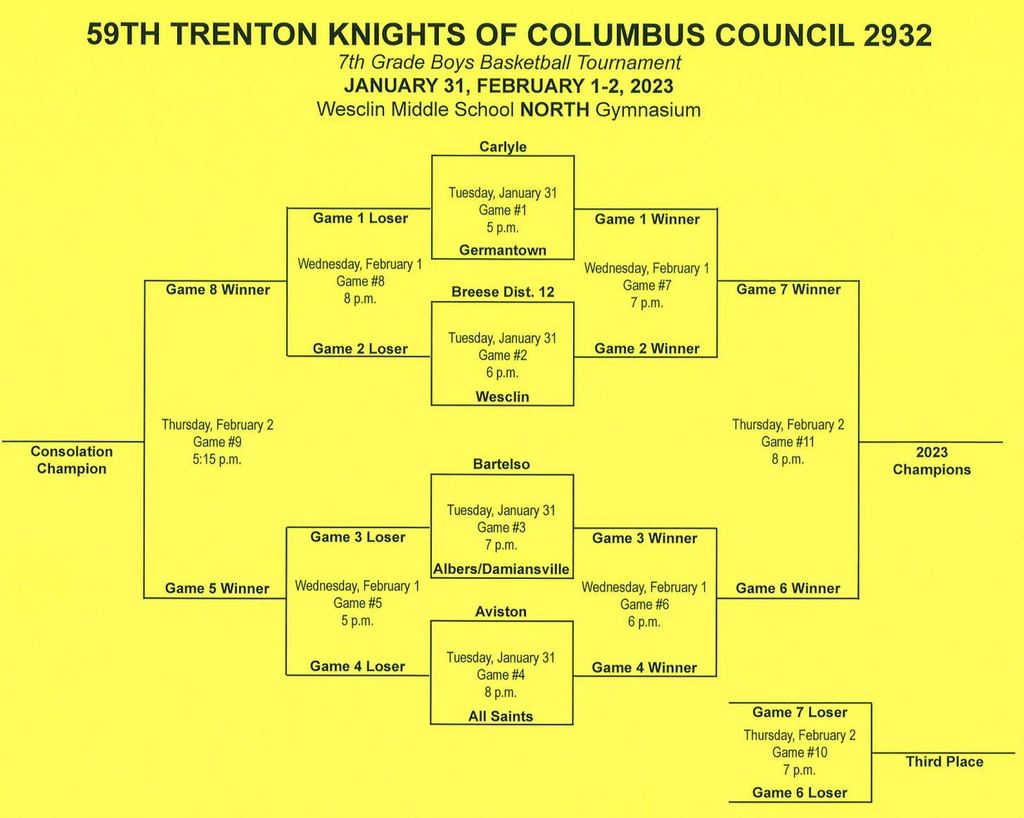 Check out this week's publication of the Bulldog Bulletin.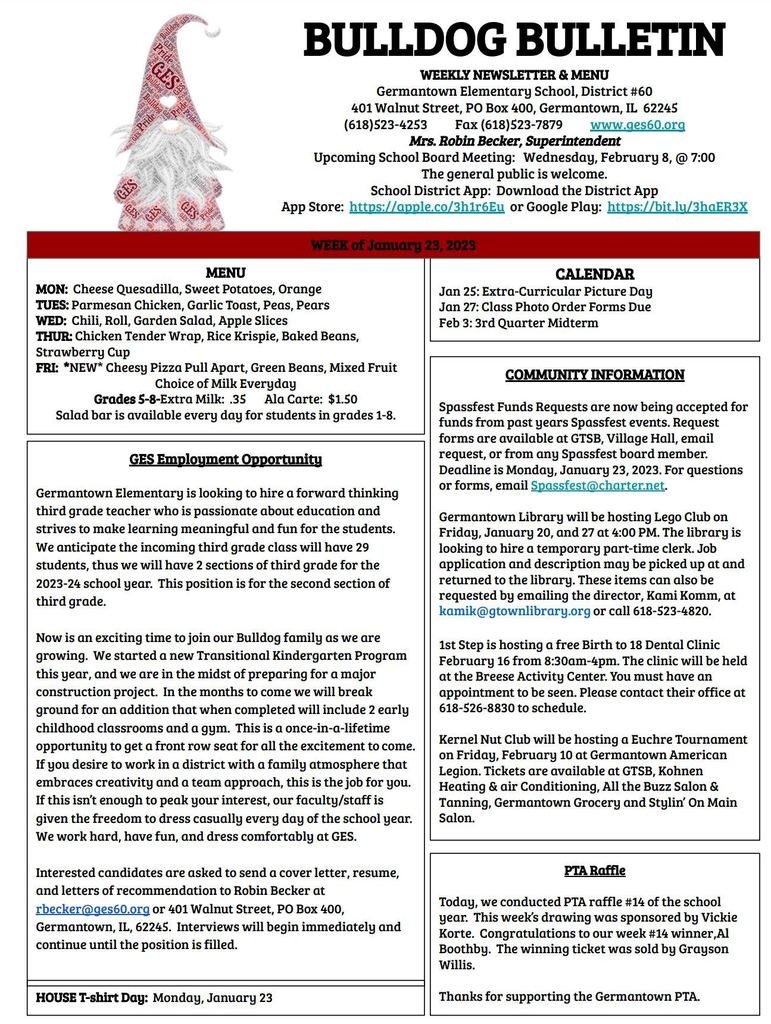 Check out the upcoming events scheduled at GES.

Here we glow again. Get out your boldest, brightest gel pen and mark your calendar. The 19th Annual Bulldog Dash is back, and it promises to be BODACIOUS. Join us on Friday, April 28, at Schoendienst Park for a Neon Night Fun Run. The 5K will start at 6:00 with the 2K to follow. Be on the lookout for registration information in the days to come. Come color the night with us.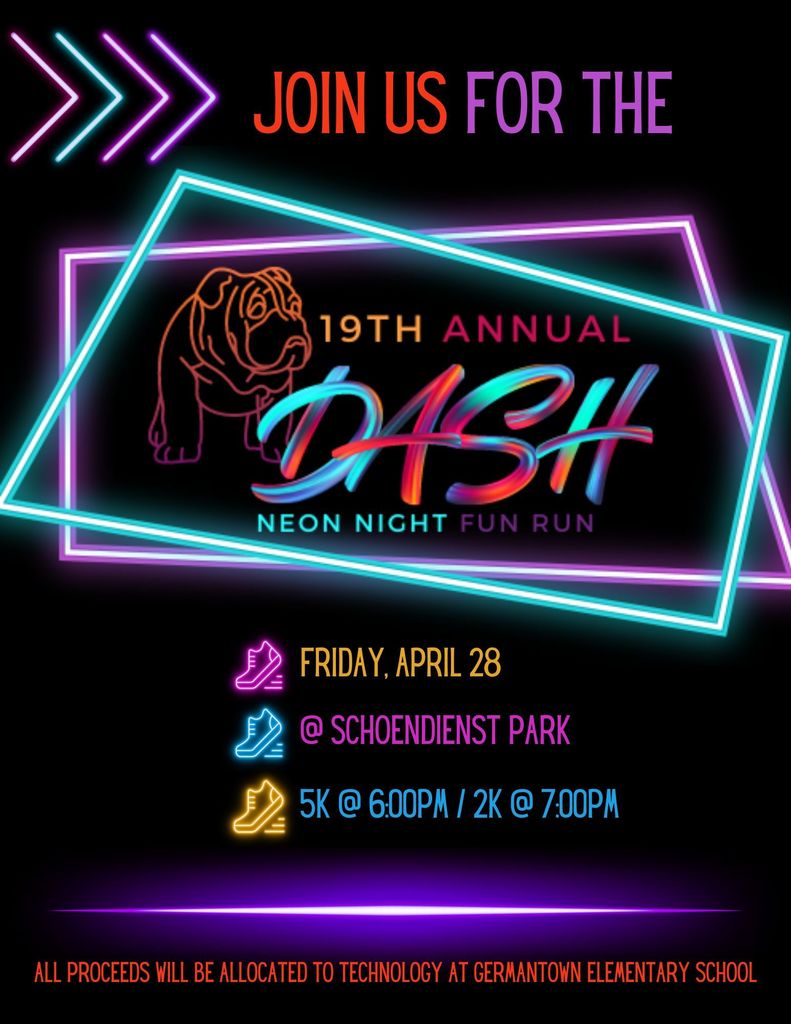 Once again this year, the Clinton County Electric Cooperative, Inc. served as a sponsor for the Touchstone Energy Cooperative Classroom Empowerment Grants. Carrie Trame, representative from the Clinton County Electric Cooperative, presented Mrs. Markwell, Mrs. Beer, and Mrs. Becker with $1500 in grant money today. The grant recipients are grateful for the funds which will allow them to purchase items that will benefit our Bulldog students.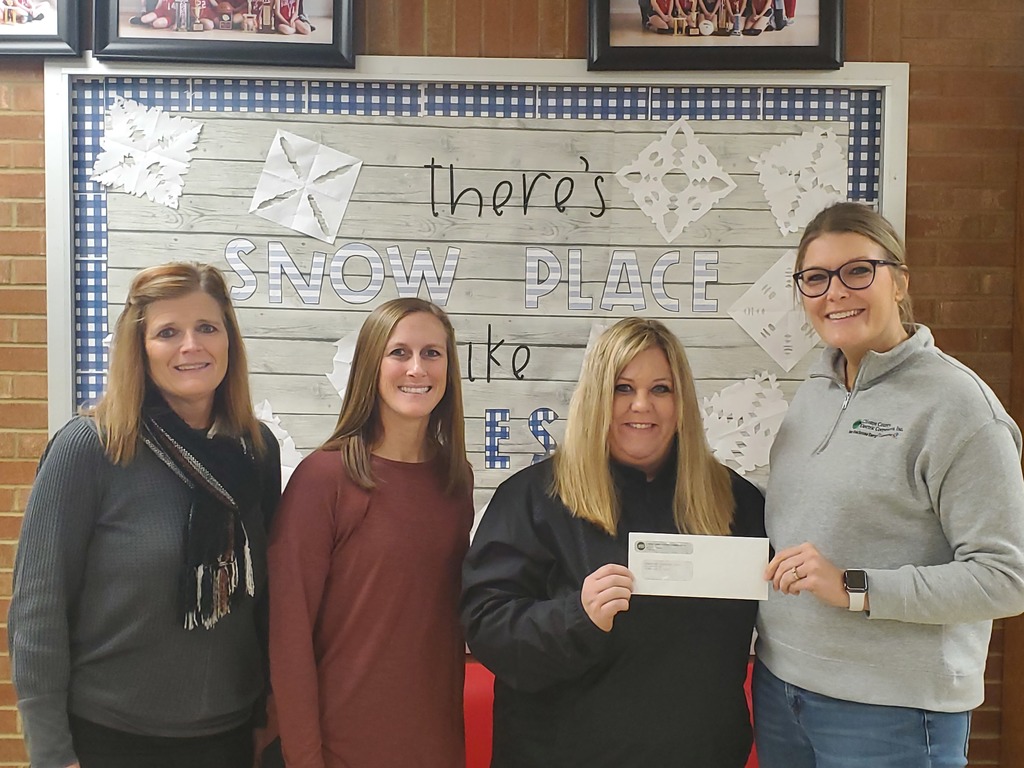 Please consider participating in our first Eat Local fundraiser since pre-pandemic times. Becker Shell will donate $1 for every pizza sold January 23-29. Support a local business, enjoy some delicious pizza, and help the PTA raise money for the school. It's a win-win for everyone.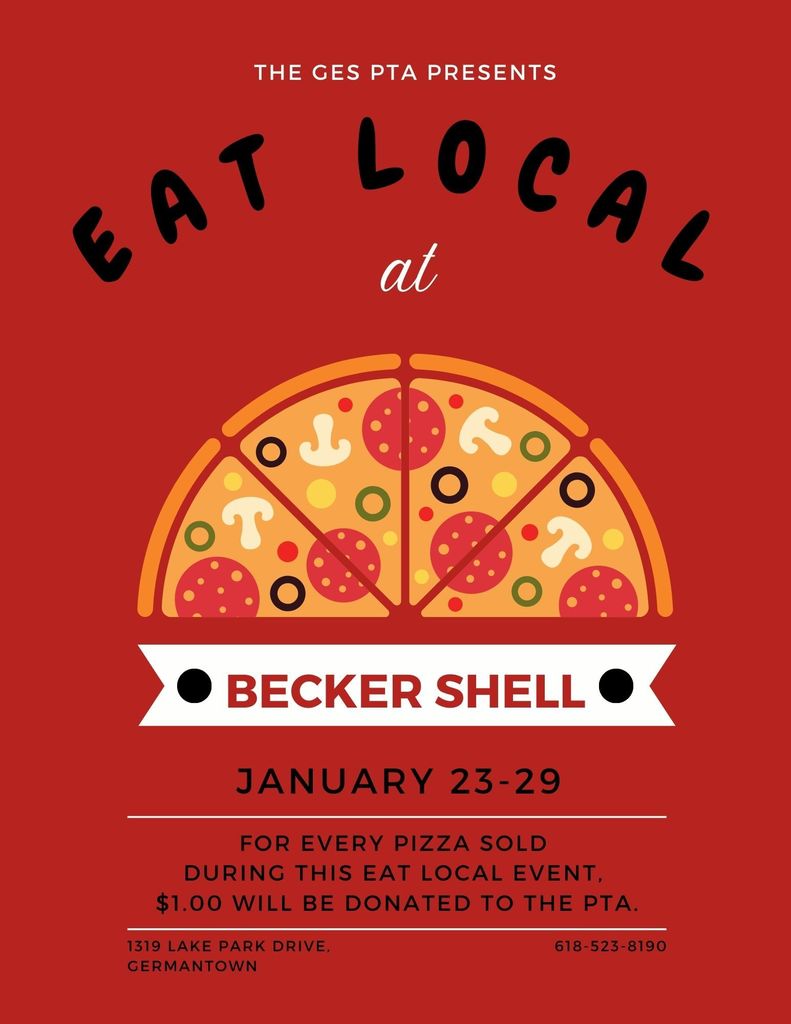 Check out this week's publication of the Bulldog Bulletin.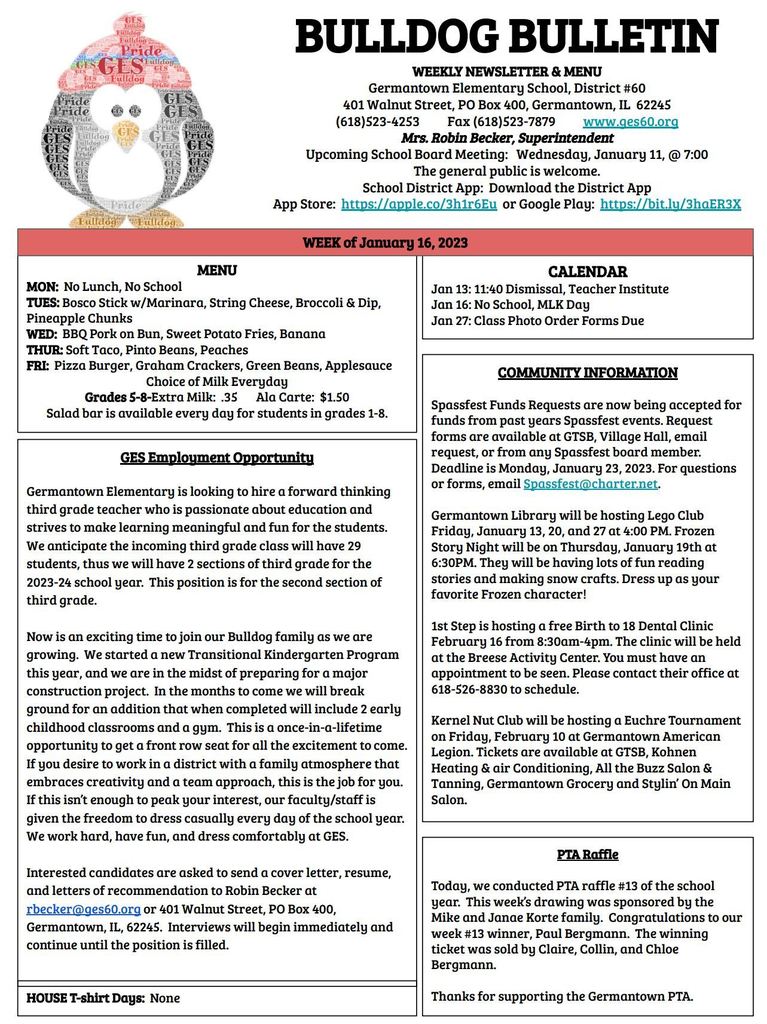 Germantown Elementary is looking to hire a forward thinking third grade teacher who is passionate about education and strives to make learning meaningful and fun for the students. We anticipate the incoming third grade class will have 29 students, thus we will have 2 sections of third grade for the 2023-24 school year. This position is for the second section of third grade. Now is an exciting time to join our Bulldog family as we are growing. We started a new Transitional Kindergarten Program this year, and we are in the midst of preparing for a major construction project. In the months to come we will break ground for an addition that when completed will include 2 early childhood classrooms and a gym. This is a once-in-a-lifetime opportunity to get a front row seat for all the excitement to come. If you desire to work in a district with a family atmosphere that embraces creativity and a team approach, this is the job for you. If this isn't enough to peak your interest, our faculty/staff is given the freedom to dress casually every day of the school year. We work hard, have fun, and dress comfortably at GES. Interested candidates are asked to send a cover letter, resume, and letters of recommendation to Robin Becker at
rbecker@ges60.org
or 401 Walnut Street, PO Box 400, Germantown, IL, 62245. Interviews will begin immediately and continue until the position is filled.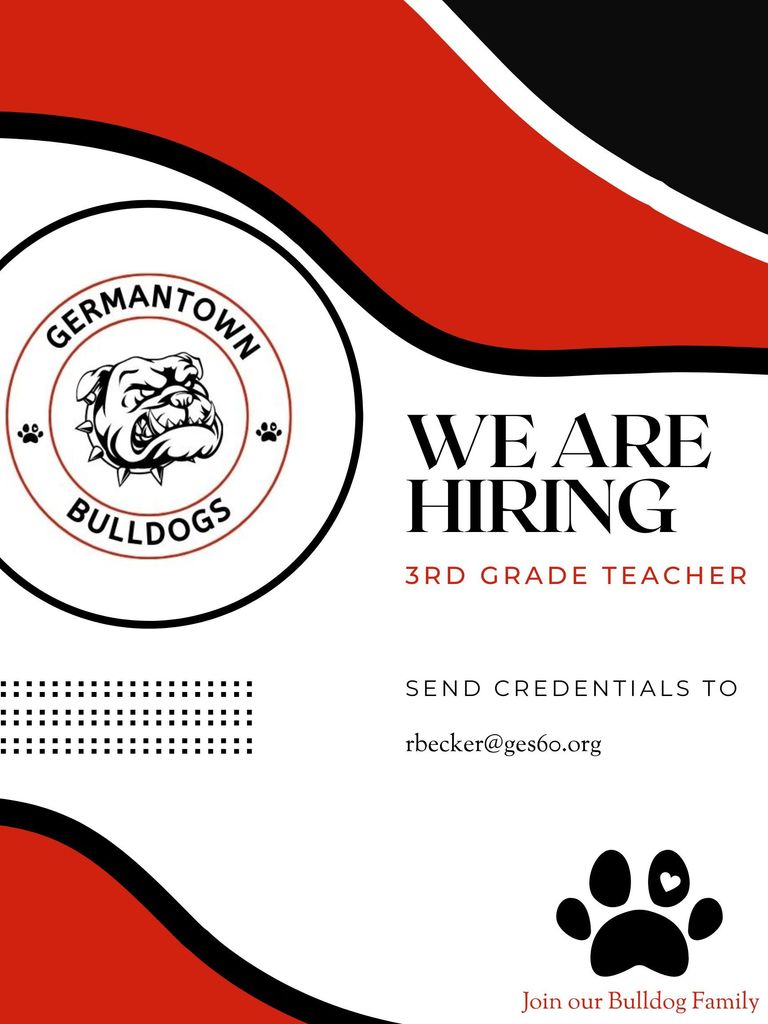 Check out the upcoming events scheduled at GES.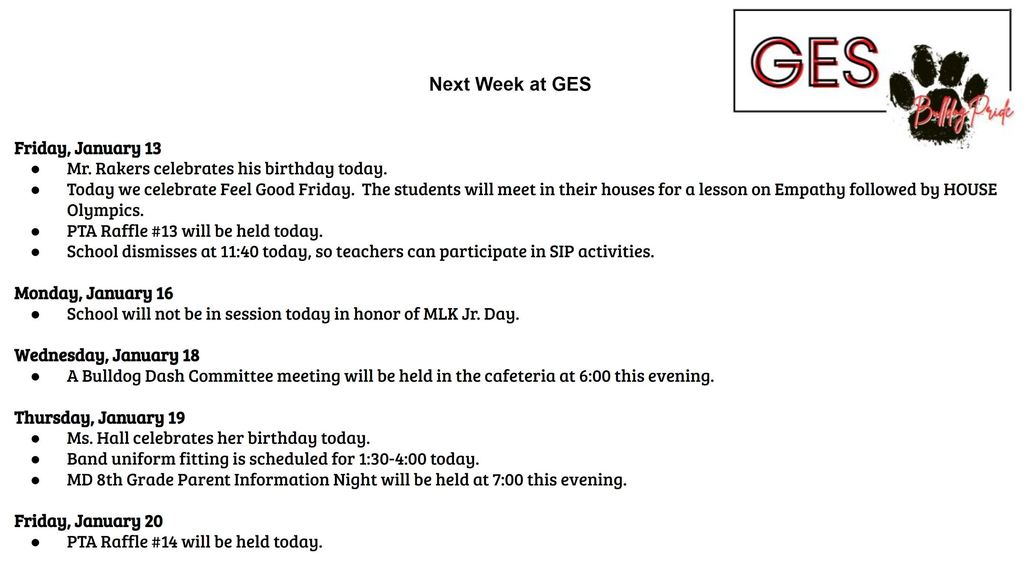 Early Head Start & Children's Learning Programs are hosting a Dental Clinic at the Breese Activity Center on February 16. Call 618-526-8830 to schedule an appointment.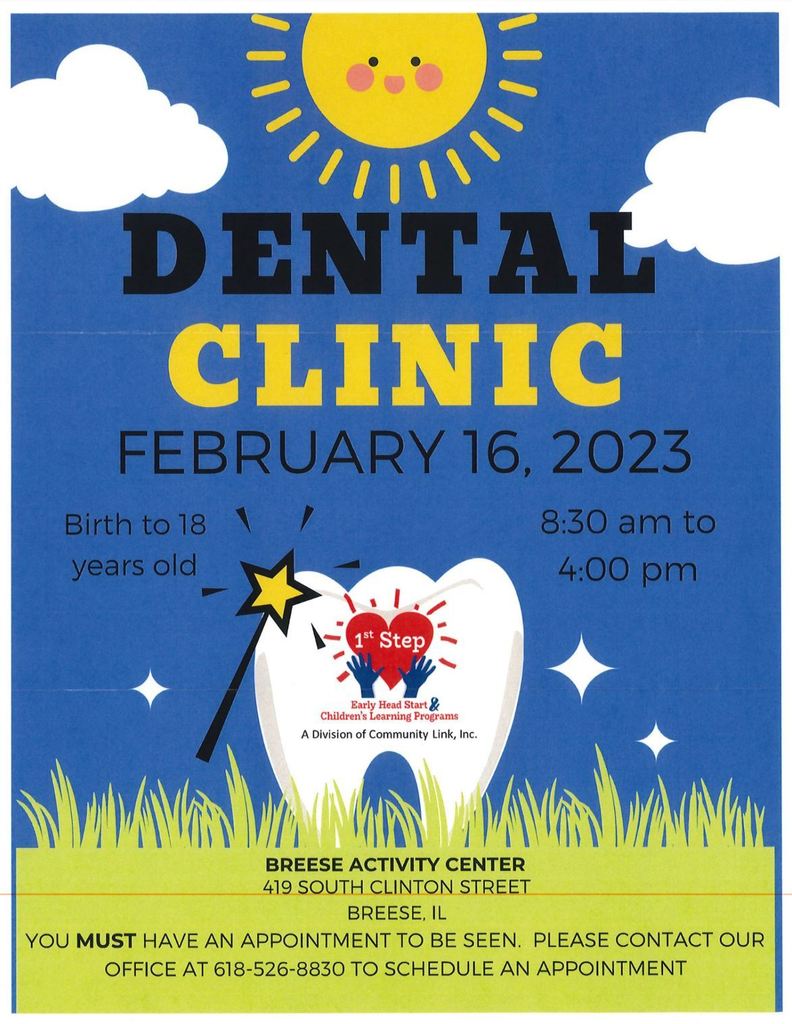 The pairings for the Region 8 SIJHSAA Boys Basketball Regional Tourney have been released. In first round action, our Bulldogs will take on Albers at 6:00 on Thursday, January 26. Go Bulldogs!