The Bartelso Knights of Columbus hosted a breakfast on May 22nd with proceeds to be distributed amongst the teachers at Bartelso and Germantown. Today, Bartelso Knights of Columbus representatives, Danny Clark and Aaron Gebke, presented Superintendent Becker with a $100 gift card for each teacher in the school district to spend on supplies for their classroom. A BIG thank you goes out to the good people at the Bartelso Knights of Columbus and everyone that worked and supported the breakfast. We are very fortunate that our local schools have so much support from the greater community. #TogetherWeAreBetter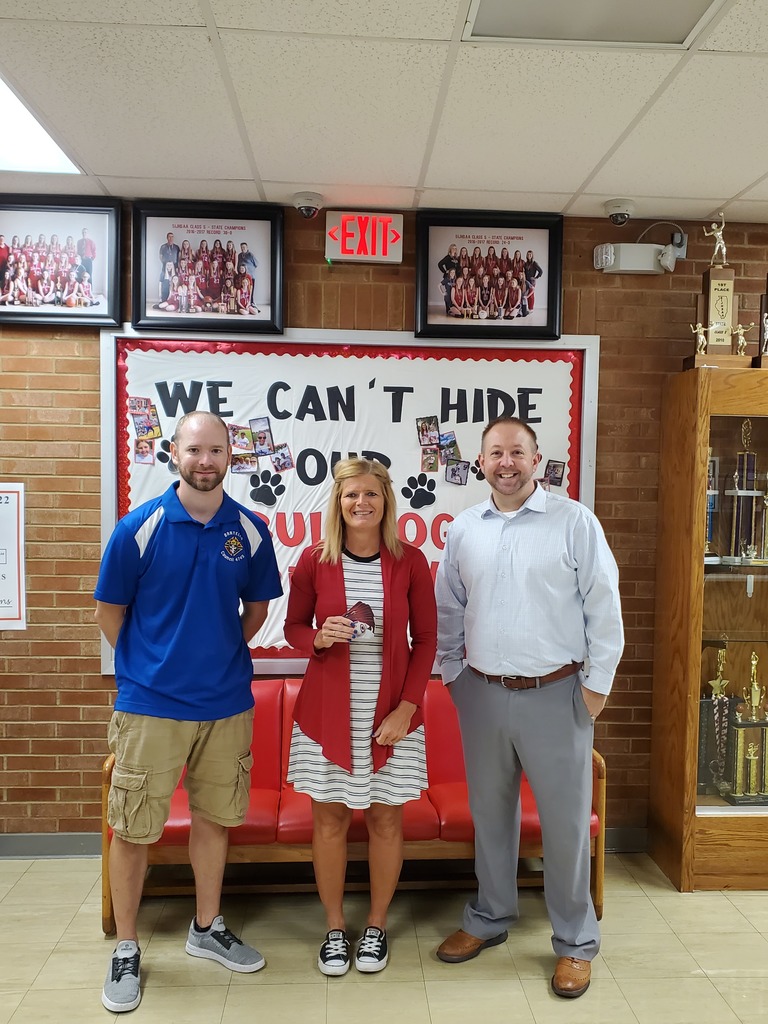 Today is a BIG day at GES.  The staff will spend the day participating in our annual Back to School Teacher Institute activities.  We will follow that up with TK-8 Open House this evening.  (Please note that PreK does not participate in Open House as there are Meet the Teacher sessions scheduled for Monday and Tuesday.)  The Open House schedule is as follows: 6:00-6:20  Families with Last Name A-D 6:20-6:40  Families with Last Name E-H 6:40-7:00  Families with Last Name I-P 7:00-7:20  Families with Last Name Q-Z Families that cannot attend their scheduled time are welcome to come when it works for them.  The purpose behind the schedule is to limit the number of attendees at one time so the teachers have more of an opportunity to connect with families.   We ask that families enter the building using the main entrance and exit the building using the wing doors if possible. For parents of junior high students, homeroom assignments for the 2022-23 school year are as follows: 5th Grade:  Mrs. Garren 6th Grade:  Mrs. Graham 7th Grade:  Mrs. Conner 8th Grade:  Mr. Glynn We look forward to a hallway filled with smiling faces this evening.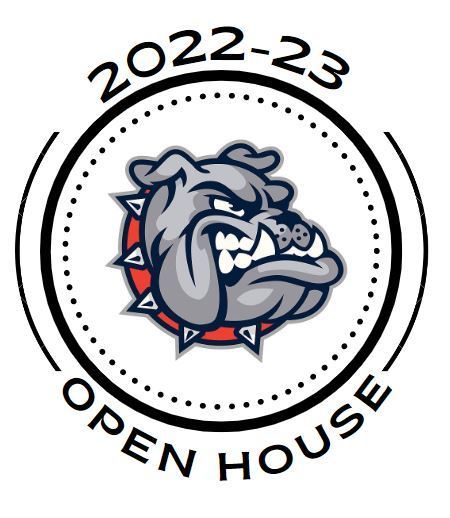 Mark your calendar for Sunday, August 21. Enjoy Breakfast in the Park at Spassfest 2022.

Join us for a Parent and Athlete meeting on Monday, August 29, at 6:30 in the cafeteria for cross country, girls basketball, boys basketball, and cheer. Meeting topics include: Code of Conduct, Communication, Important Dates, Admissions/Concessions Schedule, etc.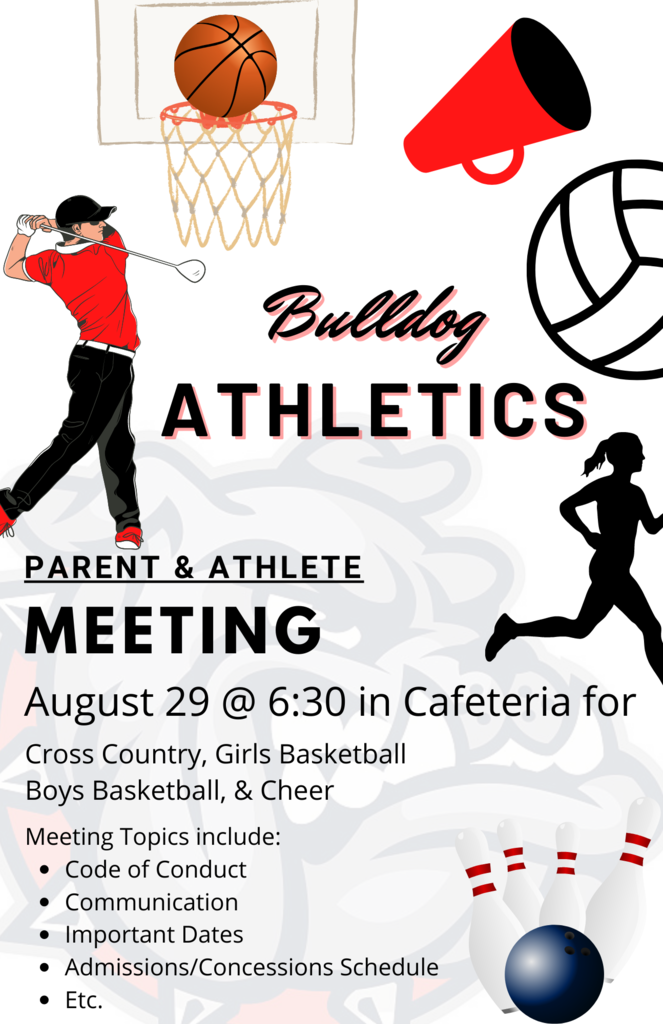 The IHSA Dicks Sporting Goods Shopping Event is this weekend, August 5-8. Show the coupon at the register to get 20% off your purchase. Stock up on all your athletic gear this weekend.

Do you know any families with 4 year olds who did not secure a spot in a preschool program and are looking for a phenomenal school experience for their child? How about 5 year olds whose parents have opted to wait a year to send their child to kindergarten but are still interested in a school experience that will prepare their child for kindergarten? We have the solution for you. We have openings in our full day Transitional Kindergarten Program for the 2022-23 school year. Whether in district or out of district, we welcome everyone into our Bulldog family with open arms. This tuition-based program serves as a bridge between PreK and kindergarten with play-based learning being a core component while also incorporating more in the way of structured activities. If you are interested in learning more about this program or signing your child up for it, simply call (618)523-4253 or email
rbecker@ges60.org
.

The students in Miss Kampwerth's class celebrated their last day of Jump Start Kindergarten today. We are confident they are ready to be full time Bulldogs when they return to school on August 15.

Mark your calendar. Grandparents' and Special Friends' Day will be held at GES on Friday, September 2. The day will begin with classroom visits from 8:30-9:30 and end with a reception in the cafeteria from 9:30-10:00. We look forward to welcoming our grandparents and special friends to school.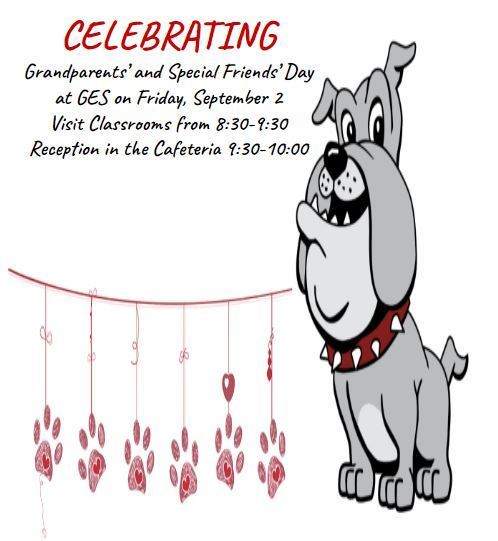 Yesterday, Jenna Santel presented Superintendent Becker with a $500 donation from the Germantown Fire Department Auxiliary to purchase school supply kits for families. We appreciate our local organizations that invest in the community children.

GES is jumping on the bowling bandwagon for the 2022-23 school year, and we are looking for a coach for our inaugural year of Bulldog Bowling. If you have some time to SPARE and bowling is in your LANE of expertise, we would love to STRIKE up a conversation with you. Some of the details of the grade school bowling league include: Mid-December - Early January: Tryouts/Practices Begin January 31-March 3: Regular Season Week of March 7: Individual Tournaments March 12 & 19: SIJHSAA Regionals and State Bartelso Bowl will be our 'home' bowling alley. The Mike Gebke Memorial Foundation will sponsor our participation in the league and take care of scheduling. If interested in the position, contact Athletic Director, Blain Loepker, at
ad@ges60.org
.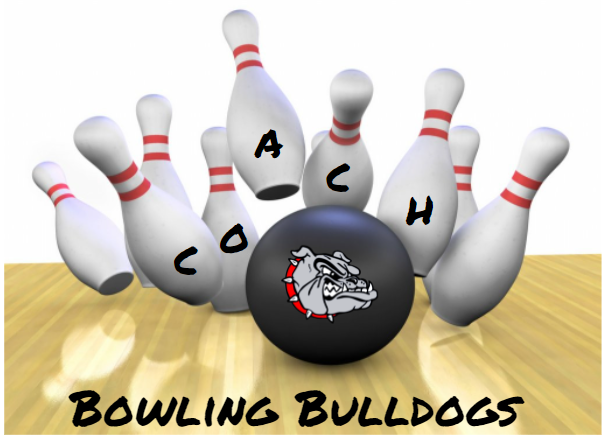 The Bulldog Family Tree has deep roots and strong branches. #WeAreFamily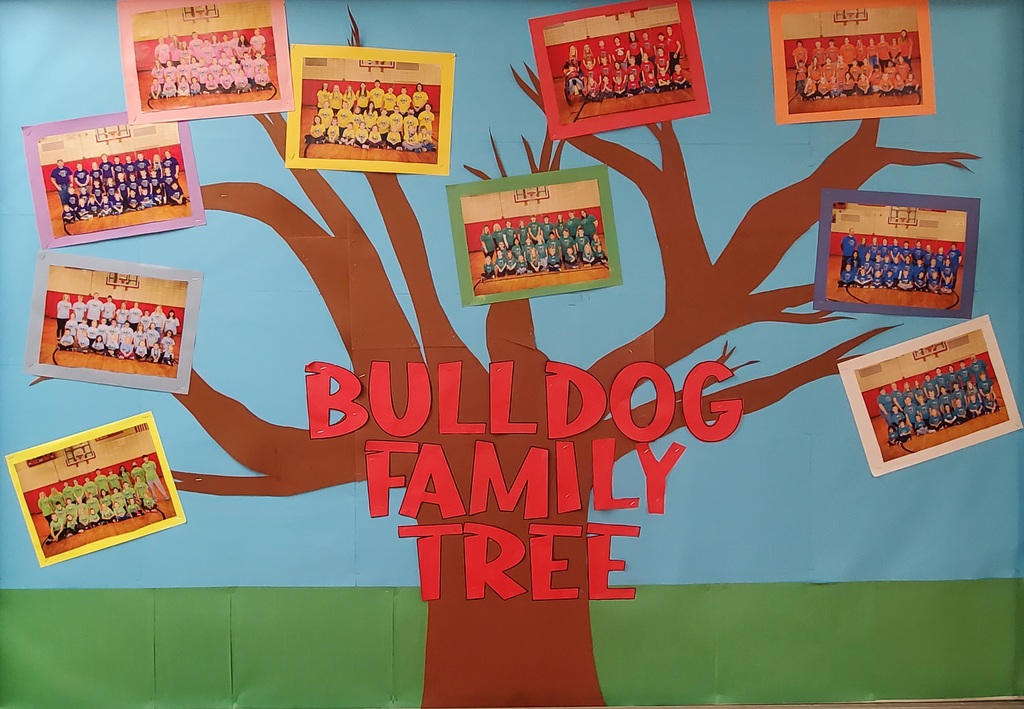 After 32 years of dedicated service to GES, Mrs. Koopmann will be retiring upon the conclusion of the 2021-22 school year. That leaves another very important position to fill. As a result, GES is looking for an educator to add to our rockstar team of teachers. This time, we are looking for a fourth grade teacher. For the experienced teacher, do you have a passion for education but you find yourself in a rut? Maybe the pandemic was an extremely stressful time in your school district, and you just need a fresh start. For the teacher new to the profession, are you looking to work for a school district that trusts you as a professional and gives you the latitude and freedom to teach creatively. Whether looking for your first job in education or wanting a change, we have a great prospective job for you. Germantown Elementary is looking to hire a forward thinking fourth grade teacher who is passionate about education and strives to make learning meaningful and fun for the students. The incoming fourth grade class consists of 18 caring, hard working students along with their very supportive parents. This will be a fantastic group of students to work with for the 2022-23 school year. If this isn't enough to peak your interest, our faculty/staff is given the freedom to dress casually every day of the school year. We work hard, have fun, and dress comfortably at GES. Now is an exciting time to join our Bulldog family as we are growing. We will be starting a new Transitional Kindergarten Program for the 2022-23 school year, and we are in the midst of preparing for a major construction project. In the Summer of 2022 we will break ground for an addition that includes 2 early childhood classrooms and a new gymnasium. This is a once-in-a-lifetime opportunity to get a front row seat for all the excitement to come. If you desire to work in a district with a family atmosphere that embraces creativity and a team approach, this is the job for you. Interested candidates are asked to send a cover letter, resume, and letters of recommendation to Robin Becker at
rbecker@ges60.org
or 401 Walnut Street, PO Box 400, Germantown, IL, 62245. Interviews will begin immediately and continue until the position is filled. If you know anyone that might be interested in this position, please feel free to share this information with them.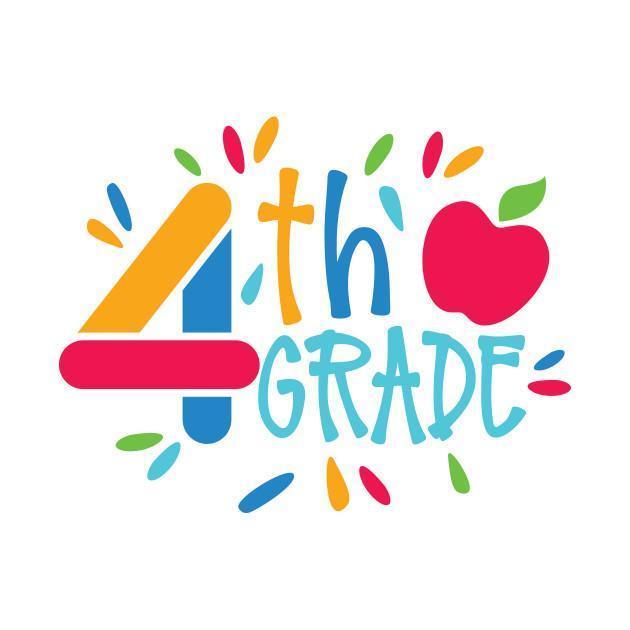 Eat local at Breese Dairy King from 5-8 this evening and support the Bulldogs. 10% of the sales will be donated to GES. Local Business + Great Food + Support a School = Winning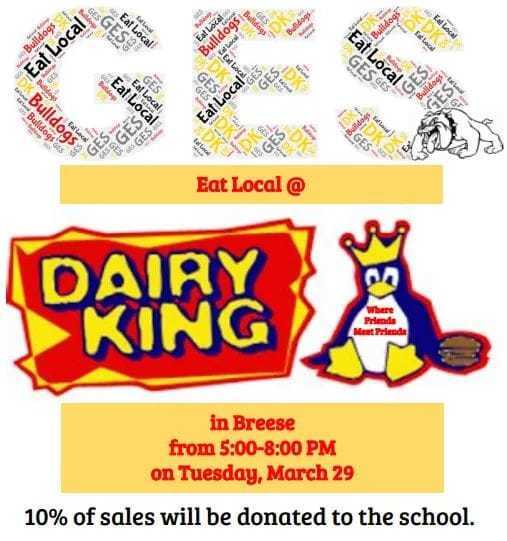 The SIJHSAA Dicks Sporting Goods Shopping Event is March 18-21. Show the coupon at the register to get 20% off your purchase. Stock up on all your athletic gear this weekend.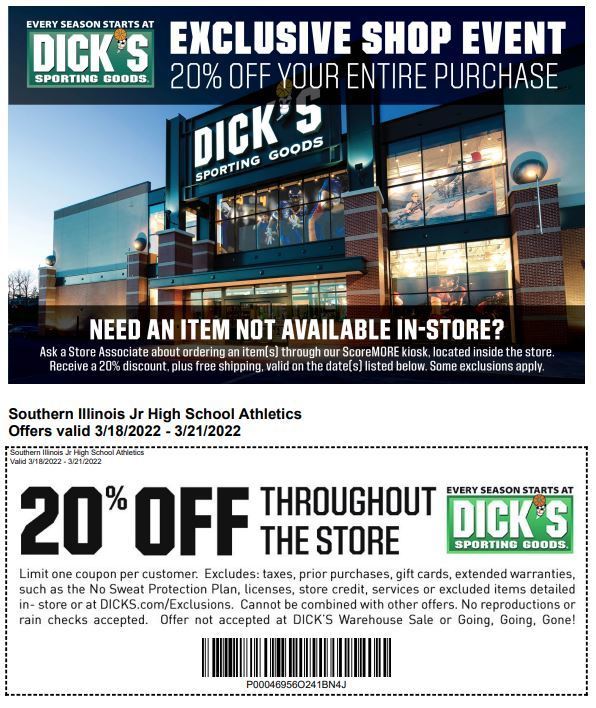 Mrs. Pat Henrichs will be retiring at the end of this school year. To celebrate her many years of teaching music to so many wonderful students at Germantown, she is asking any of her past students to join her in playing one last song at Germantown's Spring Concert on May 5th. If you would like to participate, please email Mrs. Henrichs at
phenrichs@ges60.org
Here are some of the details: 1) Music on the instrument that you wish to play will be emailed to you . 2) If you need an instrument, she will supply one for you to practice with on April 5th. (Thanks to Halpin Music Company) 3) There will be 2 rehearsals. You may choose to join us for one or both of them. If neither date works, you are still welcome to join us May 5th. Details of rehearsals & performance times will be sent in an email after Mrs. Henrichs is notified that you want to join in the fun.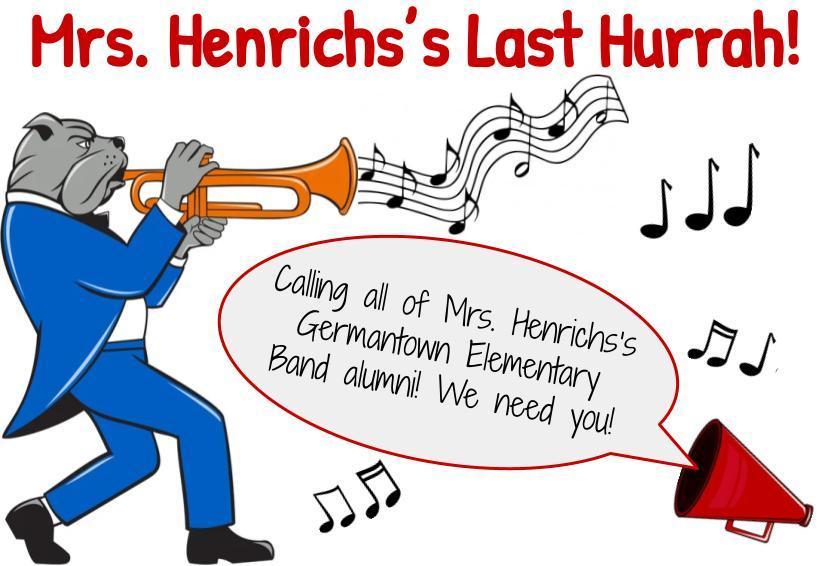 Good evening Bulldog Country. Unfortunately, the country roads are still very dangerous. Given that a large majority of our routes require travel on the country roads, we feel it is the safest decision to make tomorrow, Friday, February 25, another E-Learning Day. We apologize for any inconvenience this may cause.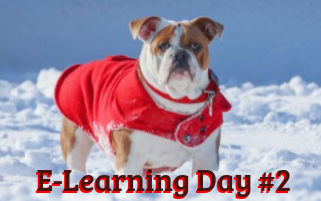 Due to the quickly deteriorating roads from the first wave of the winter mix, and the fact that the second wave scheduled to hit tomorrow is forecast to be of more significance, school will not be in session tomorrow. We will have an E-Learning Day instead. In addition, tonight's Bulldog Band and Chorus performances have been postponed. Stay tuned for more information on our plans to reschedule. Stay safe out there Bulldog Country!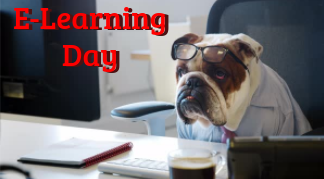 Germantown Elementary will host kindergarten registration for the 2022-23 school year from 5:00-7:00 p.m. on Wednesday, March 9, at the school office. Kindergarten students must be 5 years old on or before September 1, 2022. The following documents are due at the time of registration: a copy of the child's Certificate of Live Birth, their Social Security Number, and 3 Proofs of Residency. Physical/Immunizations, dental exams, and eye exams are required by the first day of school, 2022. Please call the school office at 523-4253 with questions.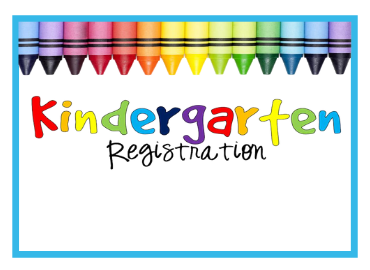 Student Council will be sponsoring a Penny War next week in support of the Swing for Sydney Foundation. Please consider joining us in our efforts to raise money for mental health and suicide prevention awareness.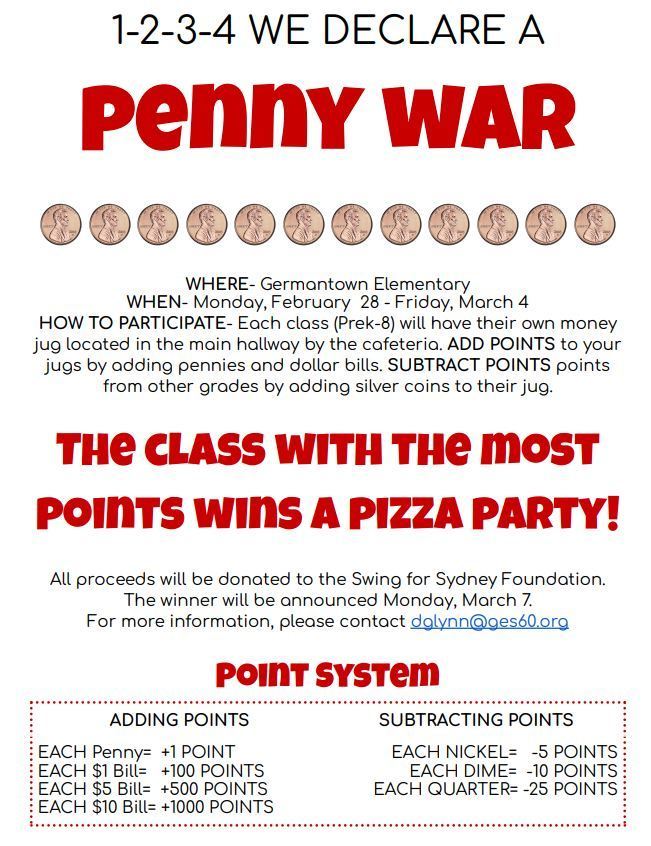 The IHSA Dicks Sporting Goods Shopping Event is February 18-21. Show the coupon at the register to get 20% off your purchase. Stock up on all your athletic gear this weekend.